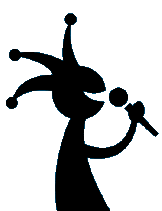 Improv On Our Own
a.k.a. "Homemade Improv"
---
The improv jam is currently on indefinite hold
---
What?
Weekly Improv Jams in San Francisco. We have four basic formats:
Micetro (most common format these days)
(learn more about how we do micetro)
Teacher nights
Long-form experiments
Short improv games (unmoderated)
(We are moving away from this format)
Who?
We are a loose group of people, some with lots of improv experience, some with a little bit of experience, and some who are totally new.
Improv On Our Own
is intended to be a fully inclusive event. The group is (currently) semi-moderated and hosted by
Dave Madison
New?
If you're new to improv or to our group, or just thinking about coming to our group, please take a moment to read
THESE TIPS
How?
Back in 2004 a group of
BATS
students decided they wanted to keep playing improv games for practice and fun. They started meeting at people's houses and informally called the group "Improv On Our Own". Since then we've had many generations of improv members, but the group lives on!
Can I Come?
If you know one of us or have some improv experience, just contact us and let us know you'd like to show up.